Assess your child's readiness for the overnight camp experience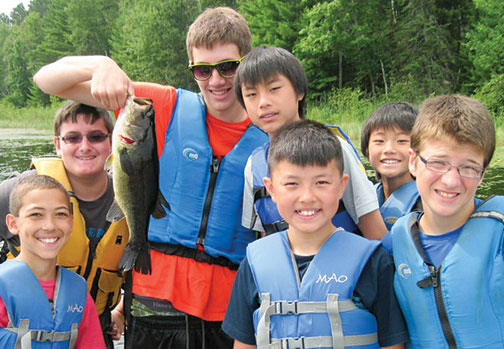 When it comes to the "right" time for overnight camp, there's no magic age. A seven-year-old who has spent the night with grandparents often may be able to attend camp for a week with no problem. But this may not be the case for a twelve-year-old who has never spent a night away from home.
Every child is different and as a parent, you're the best judge to determine when both you and your child have the confidence to handle the overnight camp experience.
To support what your instincts might be telling you, it could be time for overnight camp when your child:
1. Wants to go to camp
Has your child brought up the idea of going to overnight camp? Have they been talking about singing songs around the campfire or bunking with friends? Showing enthusiasm and interest is a good indicator.
And you don't have to wait for your child to bring it up—they might not realize going to camp is an option. Have an open discussion with your child about their desire to graduate from day camp and try an overnight camp experience.
2. Is independent
At camp, your child will be responsible for basic self-care like hygiene, eating meals, and going to sleep. They might also be responsible for reading schedules and getting themselves where they are supposed to be throughout the day and evening.
Staff members are there to help children at all times, but coming to camp with some degree of independence can contribute to a successful camp experience.
3. Has had a successful overnight experience away from home
If your child has slept overnight with friends or relatives—especially if they have done so for two consecutive nights, they should do well at overnight camp.
However, if your child hasn't stayed overnight away from home before, and could use a bit more independence, camp is a great way to gain this. YMCA Overnight Camp is offered in three-day samplers—so children who have never been away from home can start with just a couple of nights before working their way up to a week or more at camp.
4. Has a friend or sibling going to camp
Sometimes having a familiar face at camp helps ease any fears first-time campers may have. If your child's friend or sibling is planning to attend camp, this might pique your child's interest in attending camp, and can help them have a blast at camp together.
If your child is planning to attend camp solo—they'll be in good company. Most children come to camp solo because it's a great place to make new and lasting friendships.
5. Is willing to try new things
Consider your child's personality—does she like to try new things?  Does he enjoy making new friends and going new places?

Camp gives children the opportunity to get out of their comfort zone in a safe and encouraging environment.  Y Overnight Camp options range from traditional camp experiences, to specialty camps that focus on activities like horseback riding, rock climbing, sailing, skateboarding, and more. Staff members are always available to help more shy children participate in activities and get the most from their time at camp.
If you think it's time for you and your child to take the next step to overnight camp, the YMCA offers four Overnight Camp options in Minnesota and Wisconsin for kids ages seven to 17.