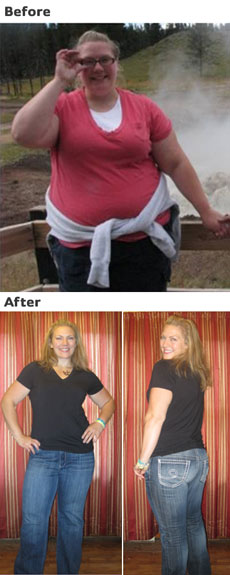 Diane Schnell is a familiar face from the New Hope Y. As a staff member often seen at the front desk, she knew all about the great benefits the Y had to offer, but had never given personal training a shot.
Ready … set … go!
In the summer of 2012, with a little encouragement from her colleague and Personal Trainer Mark Antonov she started on a journey to her healthiest and strongest self.
Weighing in at a little over 300 pounds, Diane was reluctant to take advantage of Mark's offer to train with him and serve as a testimonial for what personal training can help to achieve. She took a weekend to ensure she was really ready to ditch the donuts, ice cream and TV time—and embrace a healthier lifestyle.
Diane and Mark's sessions started out with getting her moving for 20 minutes at a time, mixing intervals and weight lifting.
A few bumps in the road
Two months in, Diane noticed that her clothes were getting a little loose and she was feeling stronger—but wasn't seeing the pounds disappear.
Mark suggested that Diane keep her spirits up, and really start working toward clean eating and making healthier food choices. With changes to her diet, Diane started to see more weight-loss results, losing about two pounds a week.
She was excited to see the scale dipping lower, but was having a tough time always saying "no" to treats like soda and processed foods. Mark helped Diane see that saying "no" to unhealthy options was really saying "yes" to a healthier and happier life.
As Diane was really starting to hit her stride and feel the benefits of her training sessions, a recurring back injury from a previous motorcycle accident put her workout plans on hold for two months. Without regular workouts while she recuperated, she didn't lose weight—but didn't gain any either, thanks to the changes she'd already made to her eating habits.
Hitting the ground running … again
Ready to get back to work in January 2013, with Mark's prompting, Diane came up with 10 goals for the year, including a mix of new challenges and weight-loss objectives. In addition to wanting to lose 115-135 pounds, Diane planned to run a 5K, ride a horse, give indoor rock climbing a try, do at least one pull up and be able to fit on the rides at Valleyfair.
Mark created and shaped a personalized workout plan for Diane to lose weight, get stronger and realize her goals.
Crossing the finish line
Mark joined Diane for her first YRun 5K and then a mud run in 2013. She also made a trip to Valleyfair and fit into all her favorite rides. To start 2014, Diane was down 100 pounds with just 15 more to go to reach her initial goal. She says, "It seems like a piece of cake—figuratively speaking!"