Check out 10 tips for water safety this summer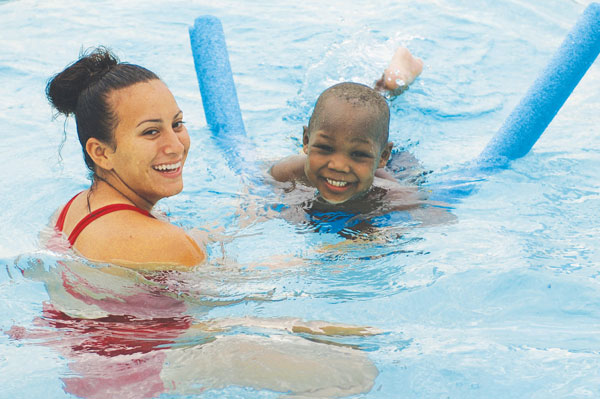 In Minnesota, summer often means swimming. Swimming is a fun activity for friends and families, plus it's an easy and enjoyable way to stay physically active.
Although our natural landscape is full of beautiful lakes, enjoying the water isn't without risk. According to the American Institute for Preventive Medicine, drowning is the second leading cause of accidental death in the United States among children under 14 and the leading cause of accidental death for children age five and under.
Help your friends and family stay safe this summer with these 10 tips collected from the Y and the Red Cross:
Never swim alone—even at a lifeguarded beach or pool, ask a buddy to join you, regardless of your age. Teach your family members to follow this rule, and help your children understand they always need to ask permission to go near water.
Only swim in designated areas—whether in a pool where other activities might be going on, or in a natural body of water where underwater hazards or currents can be lurking, be sure to stick to areas posted for swimming.
Actively watch children—adults need to constantly watch kids in the water. Most children, non-swimmers, and exhausted swimmer do not, or are unable to call for help.
Know your abilities—have family members swim tested, and set limits based on each person's ability.
Learn a lifelong skill—ensure all family members know how to swim well.  The Y offers swim lessons for all ages, seven days a week, at all metro-area locations.
Keep kids within arm's reach—while in the water, young children and non-swimmers should always be within reach of a parent or guardian.
Suit up with life jackets—all ages of non-swimmers and inexperienced swimmers should wear a Coast Guard-approved life jacket while swimming and everyone should wear one while boating.
Educate kids about water safety—kids ages five to 14 years can attend a free water safety instruction class at a lifeguarded YMCA pool.
Be aware of your surroundings—even if you're not planning to swim, if you're hiking near water or are boating, be cautious and careful of falling.
Know what to do in an emergency—attend a training to be certified in life-saving skills like CPR and first aid.
Watch this short video for more details on swim safety tips.