Every 13 seconds, an older adult is seen in an emergency department for a fall-related injury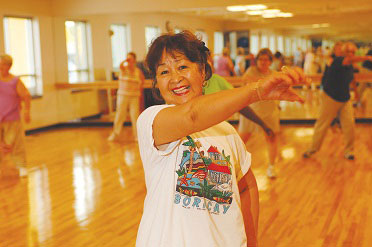 The National Institutes for Health reports that most falls happen at home, while a person is doing normal daily activities. The thing is, people don't fall simply because they get older—they fall due to a number of risk factors like:
Muscle weakness, especially in the legs
Difficulty walking
Slow reflexes
Vision problems
There are steps you can take to help reduce your risk of falling. The National Council on Aging suggests six steps to help prevent a fall. The first recommended step is to find a good balance and exercise program.
The Y understands the importance of balance and exercise for older adults, and offers targeted programs to help combat the risks of falling, including:
Fall Risk Assessments
To coincide with Annual Falls Prevention Awareness Day on September 23—the first day of fall—the Y is offering free Fall Risk Assessments. In about 10 minutes, we'll have you complete 10 tasks that help measure ability in different aspects of balance. Visit Member Services to sign up for your free assessment.
Building Better Balance classes
For those who have a significant risk of falling, this specialized training program connects small groups with a Personal Trainer—and other seniors. Building Better Balance focuses on improving balance, mobility and agility through strength, flexibility and endurance exercises. Stop by your local Y to get details on fees, locations and dates.
Group Exercise classes
These classes are free for Y members, and include several options designed for active older adults—including cardio, strength, and stretching classes. Find a class online and get started today.