Find out what to expect in this Group Exercise class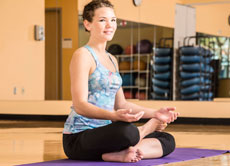 If you're looking for yoga or are interested in giving it a try, the Y offers several options that are free for members. Gentle Yoga is one of them.
Whether you're a yoga newbie or are looking to perfect your practice, Jessica Kruell, program manager and instructor at the Ridgedale Y has these helpful tidbits to share:
About Gentle Yoga
This class stretches and strengthens the body by using modifications and props like blocks, blankets and belts. It's also great for reducing stress and bringing balance into your life. Overall, it's a great way to connect your mind, body and spirit.
It's for everyone
Instructors are ready to provide modifications so that participants of any age and ability can enjoy Gentle Yoga. Jessica says, "I have people coming to class who are in their 30s, those who are in their 90s, those who can't touch their toes and women who are pregnant—and there are options for all of them."
If you're new to class, try to head in a little early and let your instructor know it's your first class and they'll provide some info to help get you started.
Don't let the title fool you—class is a workout
Gentle Yoga is largely a strength class that allows time to hold each pose, breathe and deepen the pose as you're able. Many of the poses will work your core, helping you build strength in your back and tummy areas.
Not familiar with poses or equipment? We've got you covered.
If you've never taken a yoga class and have no idea what "child's pose" is—that's OK. In each class—whether you come every week or drop in here and there, poses are always explained and you don't need to have pre-existing knowledge of what the moves include.
During class there's some equipment used—including yoga mats, straps, blocks and blankets. You're welcome to bring your own, and the Y provides these items for classes. Jessica suggests arriving early to class to ensure you get the equipment you want to use during class.
There are other yoga options to try, too
If after a few classes  you feel that Gentle Yoga isn't the right fit for you, search the Group Exercise schedule to find classes like:
Yoga Flow, which offers a cardio and strength combo through a "one breath, one movement" model
Yoga, which offers a bit more intensity than Gentle Yoga, and uses a similar format
SilverSneakers® Yoga, which offers chair support for active older adults