Enjoy quality time together and teach kids about living a healthy lifestyle with family-focused workouts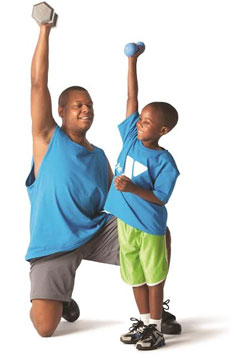 The Y is a great place to spend time together as a family. Bring the kids and challenge your family with do-together workouts like:
Playing Family Fitness Bingo
Instead of sitting with a dauber and waiting for numbers to be called, this version of bingo requires each family member to complete five mini-workouts—like run one lap or do 15 sit ups—to get a bingo. Or you can really kick things up by going for a blackout by completing every activity on the list.
Download a printable version here, or stop by Member Services at your local Y to ask for this workout card.
Includes light cardio and strength training for several different muscle groups
No exercise equipment is required
Best for kids ages 7 and up
Attending a Group Exercise class together
Members can take advantage of free Group Exercise classes—including these that are designed specifically for kids ages 3 and up and their family members:
Taking a family swim
Gather up the kids for water-based fun at your local Y. In the water, your whole body is working—water is denser than air, which provides resistance for all movements. Family-friendly aquatics amenities include waterslides, water features, warm-water leisure pools and indoor lap pools.
To enjoy the pool, all swimmers under the age of 15 must be within arm's reach of an adult at all times, or pass a YMCA swim test.