Stop in to see the new space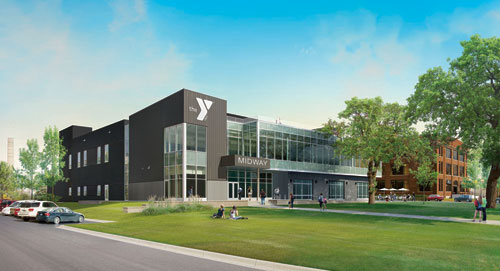 A new, state-of-the-art Midway Y is now open at 1761 University Ave. W.—within walking distance of the Metro Transit Green Line.

The new facility is designed to better serve our vibrant and dynamic community with amenities that include:
An aquatics center that features two pools with improved accessibility, natural light and outdoor views
Newly designed exercise studios for group exercise classes
Dedicated spaces for personal training and stretching
Cutting-edge fitness equipment
Racquetball and handball courts
Indoor activity area and outdoor play area for on-site child care and Kids Stuff
Indoor walking path
Multi-purpose gym
Healthy Living Learning Kitchen
Gathering areas
Expanded parking
Thank you
While we've been working to give you a new, state-of-the-art Midway Y, you've kept your commitment to fitness in our neighborhood—and for that, we're grateful. Thank you for your continued membership and we're glad to have you as a part of our Midway Y community.