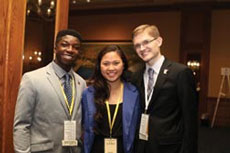 Simulated government can work toward real change
Since 1946, the YMCA Youth in Government program (YIG) has provided students with the opportunity to develop leadership skills and experience democracy. A key annual event for YIG is the Model Assembly, where students in grades 8-12 gather to simulate the functions of state government.
The 2016 Model Assembly January 7-10 brought 1,400 student delegates together to experience diverse perspectives and collaborate with one another—all while learning about state government. It's an inclusive, encouraging environment where:
Legislative branches debate, pass and fail bills
Lobbyists push for bills
District courts argue cases
Media branches investigate and report
"The biggest benefit of the program is its ability to show that there are motivated young people in our communities, ready to tackle the issues in the future head-on," says Joe Fifield, Youth Development Staff at the YMCA.
In addition to delegates participating in the student government, tours are given throughout Model Assembly weekend for friends, family members, community supports and alumni to see the conference in action.
During one of these tours, the Lieutenant Governor, Annalee Blake from Mounds View was talking about her first bill signing—Humphrey House Bill #3406. The bill was written by Earl Michael to "restore voting rights to felons that have completed their sentence." As Blake discussed this bill, a real-life lobbyist on the tour mentioned trying to pass a similar bill for years, and asked about getting in touch with Michael.
This is just one example of the amazing things that happen during Model Assembly weekend. Catch up on all the details by:
Although Model Assembly is over for 2016, there's still more for young people interested in learning about governments. If you or a student you know would like to get involved in YIG, the next annual event, Model United Nations registration is open.