Spend time on two wheels in May with resources to help you get ready to ride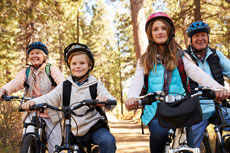 Gear up for National Bike Month in May—whether you plan to hit a paved trail, head out on a scenic ride, or tackle a mountain bike trail, these resources will help you get rolling:
Discover why the Twin Cities fosters a bike-friendly community, get tips on selecting a bike and getting it ready to ride, and find resources on planning a biking route.
Before heading out for a ride, make sure you are familiar with the biking rules from the Minnesota Department of Transportation.
Watch a short video from the City of Minneapolis that will help you know what to expect when using metro trails, dedicated bike lanes, shared bike lanes and bike boulevards.
Pedal Minnesota has plenty of inspiration for having fun on two wheels—find trip ideas for within the metro area and around the state.
If you're new to biking or are looking for an option to train indoors, find out what to expect in a cycling class at the Y.