Tip: When you hit the road, don't leave your food plan at home – plan ahead for access to nourishing food so you feel your best and make the most of your summer vacation.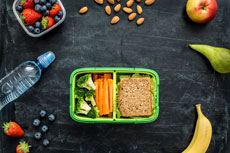 By the Chef Marshall O'Brien Group
If you are among the many people taking a road trip this summer, pack a food plan to avoid the fast food rut and eat well while you are away from home. Set yourself up for a trip that will not only relax and rejuvenate you, but help you feel your best physically and emotionally. Power up with protein, pack smart snacks and know how to find good choices in a convenience store. With a bit of planning, you can take nourishing eating on the road!
Start Each Day with Protein
Before you hit the road, fuel up with a protein-filled breakfast. Starting the day with protein provides sustained energy, helps you avoid drowsy driving and keeps you from craving snacks. A hardboiled egg or Greek yogurt is a quick, portable option.
Pack Smart Snacks
Snacks are an essential part of any road trip. Pack a cooler with nourishing foods that may be hard to find on the road. These family-friendly snack ideas will ensure you always have good options on hand.
Crudités are perfect for dipping in protein-packed hummus. Baby carrots, sugar snap peas and cucumber slices are especially friendly for little fingers.
Fresh fruit and fruit salads are a refreshing treat on the road. Pack fruit salad in individual containers - kids love to have their own fruit cups.
High protein snacks give your energy staying power. String cheese, edamame, turkey sticks, jerky and hard boiled eggs are all good options.
Nuts offer healthy fat that sustains your energy, but they are calorically dense, so pre-portion them for the road. 
Make our Smoky Baked Chickpeas ahead of time and bring them along for a crispy, savory, protein-packed road trip snack.
Pack some nourishing treats, too – like dark chocolate with at least 70 percent cocoa content – so you aren't tempted by the many less-than-nourishing options on the road.
Plan Your Route
Gone are the days of AAA Triptiks. Internet access and smartphones allow you to easily plan your route and see what restaurants and convenience stores you will find along the way. Plan your breaks at exits where you will have more nourishing options and take into consideration long stretches of slim pickings.
Choose Smart
At some point you may hit a detour and find yourself hungry in an unexpected place. Do not fret – even the most junk food-laden convenience store usually has good options if you know where to look. Many stock fresh fruit like bananas, oranges, apples, or even packets of baby carrots. Look for regular milk, cheese sticks or Greek yogurt in the refrigerated section. Most stores sell packets of nuts or trail mix. You may even find snack bars made with real fruit and nuts – just watch out for excess added sugars that will make you drowsy and hungrier.
Road Trip to Success
Planning ahead helps you create safe zones in unfamiliar places. By figuring out your route ahead of time, packing your cooler full of tasty, nourishing snacks and knowing how to choose well when in an unexpected place, you can feel your best on the road and make the most of your summer vacation.
You will love the way you feel!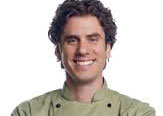 The Chef Marshall O'Brien Group is a dedicated assembly of professionals based in Minneapolis, Minnesota, committed to the goal of using nutrition to get kids and families to lead happier, healthier lives.