Begin a journey to improved physical and emotional wellbeing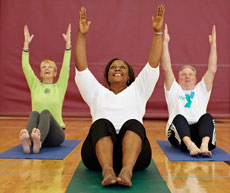 Balance & Flex Together is an invigorating 60-minute mind-body workout that incorporates yoga, Pilates fundamentals and athletic training. In class you'll work on balance, mobility, flexibility and your core.
To help participants get comfortable with movements, each Balance & Flex Together class follows a consistent format:
Focus—Warm up your body and mind with athletic, functional and full-body movements.
Salutations—Get ready to sweat through traditional yoga poses designed to build strength and stamina.
Challenge—Work your lower body with standing yoga poses, and as the name says, you will be challenged.
Balance—Focus on balance and burn calories while the intensity lessens for a bit.
Core—Train your back to create muscle balance and improve posture. Strengthen your abs and stabilize your pelvis with popular Pilates exercises.
Hips—Promote stability, mobility and realize a healthy and pain-free back and spine with hip exercises.
Spirals—Improve the mobility, ­flexibility and stability of your spine with rotational exercises.
Folds—Stretch your back and hamstrings to soothe a physically and mentally stressed body.
Restore—Recover from the workout with a "mini vacation" that leaves you feeling ready to take on the world.
Why try Balance & Flex Together?
It's easy to work at your own pace in the class—so if you're new to exercise or are at peak performance, this class is for you.
It's a great way to help your body and mind to be healthy—in just one hour you'll increase strength and flexibility, plus get in a little relaxation.
It's realistic to see success quickly—the consistent class format will help you get comfortable with the flow of the workout after just three classes.
Tips for your first class
Arrive a few minutes before class to introduce yourself to the instructor—they can answer any questions you might have.
Pick a spot near the center of the room so that you can clearly see the instructor throughout class.
Class will require you to use a yoga mat—which the Y provides, however it's a worthwhile investment if you become a repeat class attendee.
Go into class with an understanding that some movements may feel different or even awkward at first—this is totally normal.
Don't forget to have fun and remember that class is YOUR time—it's not a competition, so be sure to listen to your body during the workout.
After class, check in with your instructor if anything was particularly challenging during the workout—they can offer ideas and ways to make your next class even better.
Check out other new Group Exercise classes
During your first four weeks, limit yourself to three weekly Balance & Flex Together classes—your muscles will need time to adjust. On the days you take a break from Balance & Flex Together, try one of these new classes:
More new classes are coming this year—stay tuned for more info on: Strength Train Together and Cardio Step Together.