Get your heart rate up and push to a personal best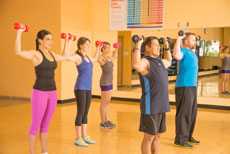 Strength Train Together is a 60-minute high-rep weight training workout that uses a combination of body-weight exercises, barbells and weight plates. You'll get a taste of traditional strength exercises and the hottest functional training moves.
To help keep your body challenged—and to help you see optimum results—each Strength Train Together class works a variety of muscles:
Warm up—Practice movements that will be used throughout class using light weights.
Legs—Work toward shape and definition for your big muscles—think squats and lunges.
Chest—See new twists on exercises like the chest press, chest fly and push up.
Back and legs—Fire up for full-body exercises like deadlifts, deadrows, deadsquats and more.
Triceps—Transform the back of your arms with presses, extensions, pullovers and kickbacks.
Biceps—Try variations on curls and rows that combine new and traditional exercises.
More legs—Start to feel like a pro with lateral movements, balance challenges, offset loading and plyometrics.
Shoulders—Work the front, top and back of shoulders with traditional exercises and functional movements.
Core—Train the front, back and sides of your midsection.
Stretch—Take time to stretch out all of your hardworking muscles.
Why try Strength Train Together?
It's easy to work at your own pace and choose your weights for class—so if you're new to exercise or are at peak performance, this class is for you.
It's a great way to add strength training into your exercise routine—especially if you're not sure where to start, or are unsure of trying the weight room solo.
It's realistic to see success quickly—coming to class just once or twice a week can really start to show.
Tips for your first class
Arrive a few minutes before class to introduce yourself to the instructor—they can answer any questions you might have and help you select starting weights.
Pick a spot near the center of the room so that you can clearly see the instructor throughout class.
You can wear weight-training gloves to class, but they are not required.
Don't forget to have fun and remember that class is YOUR time—it's not a competition, so be sure to listen to your body during the workout and if you need to stop and rest, or to adjust weights, please do.
After class, check in with your instructor if anything was particularly challenging during the workout—they can offer ideas and ways to make your next class even better.
Check out other new Group Exercise classes
Don't overdo it—limit yourself to limit yourself to Strength Train Together two or three times a week.  On the days you take a break from Strength Train Together, try one of these new classes:
More new classes are coming this year—stay tuned for more info on Cardio Step Together.