Celebrate back-to-school season with soups you can enjoy all autumn long.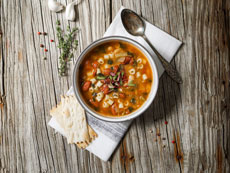 Back to school. Football parties. Harvest bounties. September is a great time to start making soups, stews and chilies again.
Stir up some soup
Make the most of harvest season by making soups featuring your fall favorites.
Serve up some chili
Spice up your next football party or fall get together with one these chili recipes (even if it's not chilly outside yet).
Put `em in a bread bowl
September is also Whole Grains Month. So whichever soup or chili you choose, serve it in a healthy whole grain bread bowl. Make your own whole wheat bread bowl from scratch or simply buy large whole grain rolls from your local market.