Tip: Halloween doesn't have to be a nutrition nightmare! Make Halloween fun, spooky and nourishing with these tips.
By the Chef Marshall O'Brien Group
For parents, the scariest part of Halloween may be the sugar crash that follows. Indulging in treats is deeply ingrained in the way we celebrate Halloween. Without sacrificing the ghostly fun, add more nutrition to the sweets you serve and include non-edible treats in your candy bowl. Once Halloween has passed, rid your house of leftover treats so the candy bowl does not haunt you. Follow these tips to avoid a nutrition nightmare and have a happy Halloween.
Nourishing Sweets
When planning or attending a Halloween party, offer seasonal treats that provide nutrition as well as delight. Apples, zucchini, pumpkin and other winter squash add autumnal flavors to cakes, pies and bars that little ghouls and boys will love. Chef Marshall's Fudgy Brownies with Cherries are made with black beans, dark chocolate and apple sauce, for a decadent, fiber-filled treat you will feel good serving to your elves and fairies.
Non-Edible Treats
Lessen the onslaught of candy and make Halloween a friendlier holiday for kids with food allergies by offering non-edible treats. You might think non-edibles will disappoint trick-or-treaters, but after seeing the same candy over and over at each house, these novel offerings will make for a more exciting – and nourishing – 'candy' bowl:
Halloween stickers
Mini erasers
Temporary tattoos
Mini jars of Play-doh
Plastic rings and bracelets
Glow-in-the-dark light sticks
Art supplies – small boxes of crayons, pencils, coloring books, notepads
Bubbles
Bouncy balls
Playing cards
Celebrate in Other Ways
For many, trick-or-treating is the highlight of Halloween. But when you embrace these other traditions you can de-emphasize trick-or-treating without your kids feeling left out:
Throw a Halloween party
Make a Halloween music playlist
Carve pumpkins
Make costumes
Decorate your house
Tell age-appropriate ghost stories
Take a Halloween walking tour of the decorated houses in your neighborhood
Savor Treats Mindfully
Halloween is an excellent opportunity to teach kids about mindful eating. Whether they are eating a black bean brownie or a candy bar, they will enjoy their treat and feel more satisfied when they give it their full attention. Instead of eating candy on the go, have them sit down at the table after trick-or-treating and choose a few special pieces to savor. When they give full attention to the treat they are eating, your kids will be less inclined to gorge on the rest of their candy.
Say Goodbye to Leftovers
The infamous end-of-the-year weight gain often begins with that bowl of leftover candy from Halloween. Don't sabotage your efforts to create a safe space in your home by leaving a giant bowl of leftover treats around the house or office. Many dentists and other businesses participate in a program that allows your children to donate leftover candy and receive toothbrushes, prizes and cash in return. If children are attached to their bag of goodies, introduce them to the Tooth Fairy's sweet-toothed sister, the Candy Fairy, who flies in at night and gratefully swaps the candy for a special toy.
Baby Steps to a Better Halloween
You don't need to remove all candy from the celebrations to make Halloween more nourishing. Include more nutritious sweets and non-edibles in your offerings and encourage children to savor their treats, then have a plan in place to get rid of leftover candy for a Halloween that is fun, spooky and better for you.
You will love the way you feel!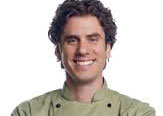 The Chef Marshall O'Brien Group is a dedicated assembly of professionals based in Minneapolis, Minnesota, committed to the goal of using nutrition to get kids and families to lead happier, healthier lives.