Meet with a Personal Trainer for baseline measurements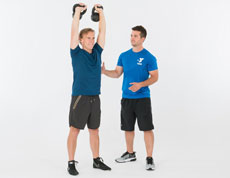 As a Y member, you can take advantage of meeting one-on-one with a Personal Trainer for a free Fitness Assessment. A Fitness Assessment marks your current physical state, making it easy to measure the progress you make as you work toward your goals.
Here's a snapshot of what you can expect:
Before a Fitness Assessment
It's a good idea to schedule a Fitness Assessment after you've had a Personal Consultation at the Y. A Personal Consultation is another free benefit included with membership—you meet with a Personal Trainer for an hour to discuss your goals and formulate a plan that will help you meet these goals.
To sign up for a Fitness Assessment or Personal Consultation, ask a Personal Trainer or stop by Member Services at your local Y.
In preparation of a Fitness Assessment, consider any specific goals or events that you want to work toward.
When it's time to head to your Fitness Assessment, be sure to wear workout clothes and be prepared to do some exercise.
During a Fitness Assessment
When you arrive at your 30-minute Fitness Assessment appointment, a Personal Trainer first talks with you about different options for what you can measure to get your baseline information. What you measure depends on your current physical state and what goals you're working toward.
Common Fitness Assessment components include:
Blood pressure reading
Just like at your doctor's office with an arm cuff.
Circumference measurements
A flexible tape measure captures the circumference of your waist, hips, arm and/or thigh.
Body-fat percentage testing
There are two ways to measure body fat:
Lightly pinch skin in various locations and measure the skinfold with calipers
Do a bioelectrical impedance analysis—where you stand on a special scale that measures how quickly a pain-free electrical current moves through your body
Strength and flexibility analysis
You do a few strength exercises (like pushups) or stretch and reach moves to show your current level of flexibility.
Cardiorespiratory testing
Specific equipment and tests vary by YMCA location, however, in all cases, cardiorespiratory testing involves doing some cardio exercise for a period of time and capturing how your body responds (breathing, heart rate, etc.) during the activity.
After a Fitness Assessment
At the end of your appointment, you'll have a clear picture of where you are today. To make the most of this information, it's best if you check in on your goal progress as time goes on.
For example, if you decide to work with a Personal Trainer on a customized workout program to reach your goals, your trainer will check your progress by doing the same measurements done in your Fitness Assessment after 30 days of working out together.
Or, if you work out on your own following a Fitness Assessment, you can also schedule a complementary Checkpoint to re-measure. It's important to schedule a Checkpoint with the same Personal Trainer that conducted your Fitness Assessment for consistency.
Y Personal Trainers are here to help you—so don't be afraid to ask questions about which options are available to support you in reaching your wellness goals.