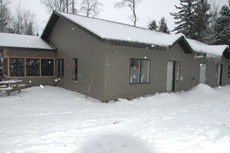 We are excited to introduce a new name for the Director's Cabin- it will now be called Skipper's. We chose this name to honor Skipper Berglund, the former director of Camp Northland, a private camp for girls that operated for many years at the site of our Northland Village. Previous campers and staff of Camp Northland are thrilled that we have chosen to recognize Skipper's leadership and carry on his legacy in this way. In addition, Skipper's cabin will have quite a facelift for summer 2016. A new kitchen, bathroom, and flooring are a few of the improvements that will be completed this spring!

Kawnipi (former staff housing located next to the Skipper's) will also be reintroduced as an available cabin for campers this upcoming summer. This wonderful little 4 person cabin is in a gorgeous location in Northland and will definitely be a great choice for families! It has served as housing for both the summer program director and a maintenance staff member for a number of years, and will now return to being used as camper family lodging. This decision does, however, add issue to the staff housing crunch we have realized in recent years. There are plans in place to move forward with increased staff housing in the near future, beginning with a new staff home being constructed this year.

Located near current summer staff housing, Boreal Lodge, the first staff duplex is under construction at the very moment! This building will house the two staff members that previously lived in Kawnipi, our summer program director and one of our maintenance staff members. We are very excited to be placing emphasis on improving and increasing our staff housing situation. It is a significant need at camp and one that truly impacts the quality of our programs. Our staff are such a huge part of the magic that du Nord creates and the quality of their lodging is important to our mission!