By the Chef Marshall O'Brien Group
Update your Thanksgiving menu with this flavorful, colorful squash and wild rice dish. Its fall color palette will have guests eating with their eyes first, and they will love the sweet and savory flavor combination. Here's to new Thanksgiving food traditions!
4 servings
Ingredients
2 cups butternut squash, peeled and cut in 1-inch cubes
2 tablespoons olive oil
2 teaspoons ground cumin
1⁄4 teaspoon ground cinnamon
1/2 teaspoon salt, divided
1/8 teaspoon black pepper
1 teaspoon unsalted butter
1⁄4 cup yellow onion, diced
1 cup wild rice
3 cups water or stock/broth
1⁄2 cup apple cider or apple juice
1⁄4 cup dried cranberries
Directions
Preheat oven to 400 degrees. Line a baking sheet with foil or parchment paper.
Combine squash, cumin, cinnamon and olive oil. Season with 1/8 teaspoon salt and pepper.
Roast squash until slightly softened and browned, about 20 minutes; set aside.
In medium saucepan, melt butter and sauté onions until translucent, 3-5 minutes.
Add wild rice, water or stock/broth, apple juice and remaining salt, and bring to a boil.
Reduce to a simmer, cover and cook until rice is tender, about 35 minutes.
Add cooked squash and cranberries and mix gently before serving.
Optional: May be served at room temperature with a simple vinaigrette.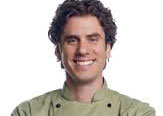 The Chef Marshall O'Brien Group is a dedicated assembly of professionals based in Minneapolis, Minnesota, committed to the goal of using nutrition to get kids and families to lead happier, healthier lives.