By the Chef Marshall O'Brien Group
Use left-over turkey and roasted sweet potatoes from Thanksgiving dinner to quickly create this flavorful and nourishing meal. This tasty hash makes a great one-dish breakfast or you can also serve it for dinner on those nights when you need a quick mealtime solution.
4 servings
Ingredients
2 tablespoons olive oil, divided
1 pound sweet potatoes, peeled (optional*) and diced (or dice left-over previously roasted sweet potatoes)
1 pound cooked turkey, finely diced--left-overs work well 
1/2 cup yellow onions, diced
5 ounces fresh spinach, chopped
1/2 teaspoon kosher salt
1 tablespoon fresh thyme, minced (or 1 teaspoon dried)
1/2 cup plain Greek yogurt
2 teaspoons fresh lemon juice
1 teaspoon ground cumin
2 tablespoons fresh Italian parsley, minced
Directions
Skip this step if using left-over roasted sweet potatoes: Heat 1 tablespoon olive oil in a large skillet on medium-high heat; add sweet potatoes. Cook, stirring occasionally, until golden brown and soft, about 7-8 minutes. Remove potatoes and set aside.
Add 1 tablespoon olive oil to the skillet; add turkey and onions and cook until softened, stirring occasionally, about 4-6 minutes.
Add spinach, salt and thyme; cook until spinach is slightly wilted.
Add cooked sweet potatoes and heat through.
Combine yogurt, lemon juice, cumin and parsley.
Garnish hash with a dollop of the herbed yogurt.
*If leaving the skin on the sweet potatoes, scrub them well before preparing. They are as edible as regular potato skins.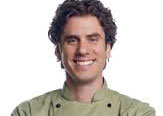 The Chef Marshall O'Brien Group is a dedicated assembly of professionals based in Minneapolis, Minnesota, committed to the goal of using nutrition to get kids and families to lead happier, healthier lives.