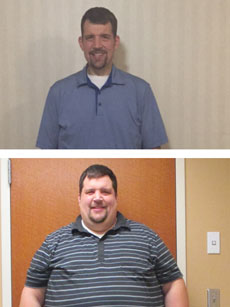 New Hope Y member is transforming his health
In April 2015, Tim Harriger weighed 538 pounds. As of November 2016, Tim weighs 218 pounds. His journey to successfully resolve chronic health issues like high blood pressure and pre-diabetes began by joining the New Hope Y to get healthy and lose weight.
Today, Tim is working to continue to lose weight and running races as a way to stay focused on his goals. He ran his first 5k at the Y Run in April 2016 and has competed in two additional 5k races, plus a mini-triathlon in August 2016.
He maintains a strong commitment to getting healthy, visiting the Y five days a week to work out for about an hour. One of the days he doesn't come to the Y, Tim likes to get outside to go running or biking. He says, "The new elliptical machines are great and being able to watch movies while working out has helped me to increase my workout duration the last couple of months."
Tim credits the Y with providing encouragement and opportunities to help him to reach his goals. As a New Hope Y member of the month, Tim is able to share his story, connect to other members and be a source of inspiration. "I have loved building relationships with many of the staff and other members at the Y!"
He also appreciates the family-friendly environment at the Y—Tim's whole family has enjoyed swimming and sports like basketball and soccer in an effort for everyone to live healthier.