By the Chef Marshall O'Brien Group
This recipe is quick and easy, because you can take advantage of baby steps, like using previously cooked, frozen chicken breasts and frozen, chopped vegetables. And it will start you off with the right eating habits for the new year, because it uses lows-sodium pasta sauce and whole grain rotini!
Serves 4
Ingredients
24 ounces boneless, skinless chicken breast
1 tablespoon olive oil
1/4 teaspoon salt
1/4 teaspoon black pepper
1/2 teaspoon dried Italian herbs
1 cup onions, chopped
1 cup zucchini, halved and thinly sliced
1 cup carrots, thinly sliced
2 cups low-sodium marinara or pasta sauce
8 ounces dry whole grain rotini pasta
Directions
Heat olive oil in a large sauté pan over medium-high heat.
Season chicken with salt and pepper and cook until browned on one side, about 3-4 minutes.
Turn chicken and add onions and Italian herbs. Cover and cook until chicken is tender and reaches an internal temperature of 165 degrees, about 10-12 minutes.
Remove chicken, onions and any juices from pan and slice or chop chicken.
Cook pasta according to package directions.
While pasta is cooking, sauté carrots in the same pan for 3-4 minutes over medium heat.
Add zucchini and continue cooking for another 3-4 minutes until vegetables are soft.
Add chicken, onions and sauce; heat through.
Add cooked pasta, stir and serve.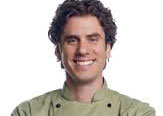 The Chef Marshall O'Brien Group is a dedicated assembly of professionals based in Minneapolis, Minnesota, committed to the goal of using nutrition to get kids and families to lead happier, healthier lives.