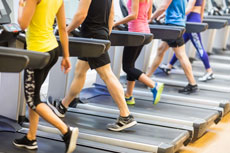 Five tips for getting in a great workout when there are more people at the gym
Depending on your current fitness routine, January usually means one of two things:
It's time to start or get back to exercising regularly.
The gym seems like a much more popular place than it did during your workouts in December.
Whether you're new at the YMCA or a seasoned regular, here are five ways you can make the most of the time that you dedicate to your fitness goals:
Go during less busy times
Most Fitness Centers are busiest during mid-morning and early-evening hours. To help ensure you can use the equipment you want without waiting, try to head to the gym during less popular times:
Before 7am
Between 11am and 4pm
After 7pm
Take a Group Exercise class
A variety of fitness classes are free with your Y membership and are an excellent way to get in a continuous workout without wait times. Come to class 10 minutes early to take your pick of equipment and secure your space in the studio.
Use the weight room
Free weights and strength machines are for all types of exercisers—not just serious lifters, and are often used less than the cardio machines. If you're not sure where to start with strength training:
Head to a weight machine—these include instructions for how to use them and show which muscle groups will be worked.
Ask any member of the Fitness Center staff—they are there to answer your questions.
Sign up for an equipment orientation to get an overview of the machines and equipment in the fitness center—you'll feel more confident and safe during your self-guided workouts after orientation.
Give something new a try
If you typically hit the treadmill, but they are all being used when you get there—head to the running track, or use a different cardio machine like a bike or a stair mill. Find tracks and other Y amenities to use.
Get help from a Personal Trainer
Not only will sessions with a Personal Trainer get you first dibs on the equipment you need for your workout—you'll also more quickly achieve your desired results. Sign up for just one session or buy a package of up to 20 sessions ranging from 30-60 minutes.