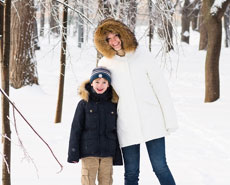 Try walking these routes in your community to gear up for the Y Run.
After the holidays, sticking to a New Year's resolution can be challenging. If exercising feels like a chore, try taking a walk to boost your energy, burn a few calories and benefit your health. Colder temps don't mean you're stuck on the treadmill—whether you prefer to be inside or outside, you can switch up the scenery by exploring a few fun places in your community.
Skyways—If you work downtown, taking a walk through the skyways over lunch hour is a great way to get your heart pumping when it's chilly outside—and window shopping is an added benefit. Check out skyway maps for Minneapolis and St. Paul.
Malls—Several of the major shopping centers in the Twin Cities have dedicated walking programs or hours. Taking a lap around the mall during your next shopping spree is a great way to get your steps in.
Community Destinations—Take a stroll while seeing the sights or learning something new by visiting popular destinations like the Minnesota Landscape Arboretum or the Como Park Zoo and Conservatory. If you're pressed for time and can't make a special trip, many local schools or community centers have walking tracks available for no charge or a small fee.
Parks—Even winter features a few bright, sunny days. The Twin Cities are well-known for their many beautiful parks. On a warmer day, put on a few layers and get some fresh air.
YMCA—If you'd like to go for a walk or jog after your group exercise class or strength circuit, you're in luck—most Ys in the Twin Cities have an indoor running/walking track. Check your Y member guide to see what options are available.