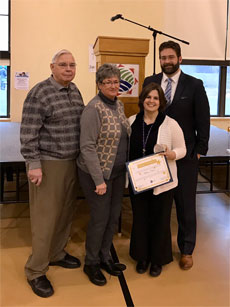 It's Model UN week here at the YIG State Office and we are in a tizzy of packing. If you've never been around before a conference, it's always a ton of fun while we get all the program area kits ready to go and make sure we have all of our supplies and, of course, guaranteeing that our technology works the way that it's supposed to, even when it's not on the YMCA network. 
In the midst of all the frenzy, however, we want to take some time to celebrate one of our most phenomenal volunteers. Laura Nelson has been involved with YIG since she was a delegate in the program herself, and has since become one of our closest volunteers--working with the State Office extensively to prepare for Model Assembly and Model UN, and accompanying the Minnesota Delegation as a chaperone to the Conference on National Affairs every summer in Black Mountain, North Carolina. This year, she was also the 2017 recipient of the Robert "Skip" Wilke Award, which is the highest honor given to an adult serving the Youth in Government program. Named for Skip Wilke, State Director from 1977-1983, the award recognizes a volunteer with at least 10 years of service who have gone above and beyond the call of duty in service to the program. 
This year, also, another group, Syndergy & Leadership Exchange, chose to recognize Laura for her work as the Delegation Director of the AFSA delegation by naming her a State Honoree for the Academic Challenge Coach Award. Honorees demonstrate passion for students and the activity, encourage participation of students of all backgrounds and learning abilities, create a safe and harassment-free environment, and involve students in planning and decision-making. 
We are so proud of Laura for this award and we are so glad to continue to have her on our team! Go Laura!