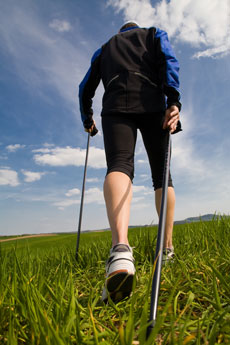 Whether it's beautiful or blah outside, stick to your fitness routine with indoor and outdoor options.
It's May in Minnesota, which means any day can bring a heatwave, cold snap, tornadoes or thunderstorms. Even when the forecast is unpredictable, you can stay on track with your fitness goals using a mix of indoor and outdoor workouts.
Jen Myers, director of Healthy Living at the Blaisdell YMCA, suggests these workouts that are appropriate for the changing weather:
Enjoy the weather workout
On days when the sun is shining and all you want to do is hang outside, you'll need to choose the setting for your workout—is it your backyard or a nearby park? Jen uses this 30-minute workout in one of her Boot Camp classes and calls it "The Accumulator."
Warm up
Walk or jog around the block or to your neighborhood park.
Workout
Between each of these steps, do a 1-minute run around your yard or field at your local park. If you want an extra challenge, look for a space that has a hill or incline.
30 seconds of squats
Repeat step 1, add 30 seconds of push-ups on a picnic table
Repeat step 2, add 30 seconds of jumping jacks
Repeat step 3, add 30 seconds of step-ups on a picnic table seat
Repeat step 4, add a 30-second plank
Repeat step 5, add 30 seconds of triceps dips on a picnic table or seat
Repeat step 6, add 30 seconds of stationary or walking lunges
Cool down
Walk home from the park and do some stretching in your yard.
Beat the heat and humidity workout
Head to pool to avoid overheating on hot days, but still get in a great workout. In addition to helping you maintain a lower body temperature, being in the water provides more resistance than working out in the air on land.
You don't have to stick to swimming, you can run in the water—you won't move as quickly, but you will have to exert more energy to move yourself forward.
Technique
Keep your body upright and your legs under your hips. Pump your arms and cycle your legs like you would on land. You can run in the shallow or deep end—whichever is most comfortable for you. Try running back and forth across the pool, or in a circle to stay in the deep or shallow end.
Workout
10-15 minutes: Run at 50% effort
1 minute: Run at 75% effort
1 minute: Run at 50% effort
Repeat steps 2-3 eight to 10 times
Cool down
Do some stretches using the pool wall for support.
Shelter from the storm workout
If you had your heart set on an outdoor run or bike ride, and severe weather has ruined your plans, you can still get a taste of outdoor adventure during an indoor cardio workout.
Matrix treadmills and bicycles at the Y have a feature called "Virtual Active," which allows you to mimic a workout in iconic places around the world. Choose a route in the Rocky Mountains, streets of Sydney or volcanoes of Hawaii. The cardio machine will mimic the terrain by adjusting the incline and resistance—and you'll learn some fun facts about these places while you complete your workout.