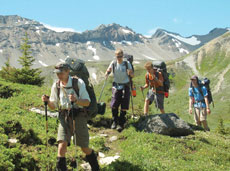 Whether your child is heading to camp for the first or 10th time, prepare like a pro.
If your child is ready for overnight camp this year and is going to be spending the summer making new friends in the great outdoors, it's time to prepare and plan for packing.
What to pack
A great way to get acquainted with what your kids will need at camp is to visit the camp prior to your child's stay. YMCA camps invite you to come to an open house so you can see what camp will be like for your child.
YMCA camps provide a packing list to help you prepare for your child's time at camp. What's on the list depends on what type of activities are in store for your child, and what amenities are available at camp. Find lists for:
How to pack
According to Kurt Simer, BOLD & GOLD program director, it's a good idea to start the packing process a few months before camp (e.g., in the spring for summer camp).
Once you have the list of what's suggested for your child's chosen camp:
Take an inventory of what you already have
Make a list of missing items you'll need to buy
Check with the camp's program director for ideas on affordable gear you can purchase to complete the list, and items that you child might be able to share if attending camp with a friend or sibling
"It's not necessary to go out and buy expensive clothes and gear for camp, where things tend to get dirty," says Kurt.
If your child needs new sandals or boots for their upcoming camping experience, have them wear the shoes prior to getting to camp so that they are broken in, and new-shoe blisters can be avoided.
You can also help your child with the unpacking process by grouping outfits or camp experience gear together. For example, you can use gallon-size plastic bags for whole outfits, or you can group items that will be needed for different parts of camp—while at camp, while on a canoe, etc.
Who should pack
It's important for kids to participate in the packing process themselves. Kurt says, "Talk with your child while packing about how everything is organized and what's included—it helps them to feel more prepared."
Even with your child helping to pack, you can sneak in a surprise note of encouragement with their gear. Kurt says that if you want to include a note, make sure you're focused on positive home memories and the experiences he or she will have at camp. For example, something like "I'm so excited for you and can't wait to hear all about your adventures at camp."