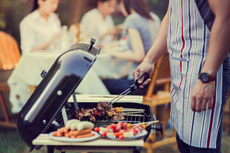 Tip: Summer's best tool for easy, nourishing meals is right there in your backyard or on your deck! Check out Chef Marshall's tips for tastier, more nutritious grilling.
By the Chef Marshall O'Brien Group
In the heat of summer, when the mere thought of using the oven makes you sweat, your grill is your best friend. We often associate outdoor cooking with burgers and hot dogs, but the grill is far more versatile. From fish to pizza, veggies and even fruit, the grill is your ally for delicious, healthy summer meals.
If You Can Eat it, Grill it!
Why limit yourself to hamburgers and hot dogs? Experiment with surprising, and more nourishing, foods to grill:
Fish – Grilled fish takes on irresistible flavor you simply can't get from other cooking methods.

Grill meatier fish, like tuna, salmon, mahi mahi and halibut, directly on a clean grill.
Use a fish basket for more delicate fish.

Vegetables – Toss almost any veggie in avocado oil, salt and pepper and your prep is done.

Place smaller veggies in a grill basket or combine on veggie kabobs.
Larger veggies, like corn on the cob, asparagus and peppers, cook right on the grill.
Grilled lemons are a fresh and zesty accompaniment to almost any summer dish.
Grill avocado halves for a smoky guacamole or summer salad.

Fruit –You haven't really tasted summer until you've tried grilled fruit!

Grilled goat cheese-stuffed figs
Grilled mango with a sprinkle of lime and chili powder, cilantro or mint
Grilled watermelon with goat cheese and balsamic vinegar

Kabobs – Get creative and experiment with any combination of fruits, veggies, meats or tofu. The possibilities are endless! Try Chef Marshall's Grilled Chili Shrimp and Pineapple for something tasty and different.
Pizza – Don't have an outdoor pizza oven? Use your grill!

Grill your pizza right on the grate and serve it with a fresh summer salad.
Your family will love making individual pizzas with their favorite toppings from the garden or farmers market.
Tips for Nourishing Grilling
Grilling involves high heat, which can transform even healthy ingredients into harmful byproducts. Keep grilled foods nourishing with these tips:
Use oils with a high smoke-point, like avocado oil, that can withstand high heat without breaking down into unhealthy components and compromising the taste of your food. Our blog on Healthy Oils offers more suggestions for healthy cooking over high heat.
Use rubs, not marinades – spice rubs give grilled meats incredible flavor without the use of oils that can break down over high heat.
Grill over low or indirect heat – turn one burner to high and the other to low; position your meat over the low burner and cover the grill.
Avoid burning or charring food – that black char contains known carcinogens.
Make it a Meal!
Cook your entire meal on the grill and clean-up is a cinch!
Place longer cooking veggies, like potatoes, on the grill first.
Grill additional veggies like fennel, beets, asparagus or peppers. Let cool, then toss over a bed of fresh greens for a grilled summer salad.
Grill your meat, fish, kabobs or tofu and get ready to eat!
Fire up the grill once more for a dessert of grilled halved peaches or nectarines.
Spend your summer in the back yard grilling up fresh, delicious, nutritious summer meals with family and friends – and leave that sink full of dirty dishes for cooler weather.
You will love the way you feel!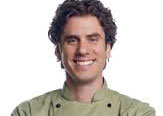 The Chef Marshall O'Brien Group is a dedicated assembly of professionals based in Minneapolis, Minnesota, committed to the goal of using nutrition to get kids and families to lead happier, healthier lives.