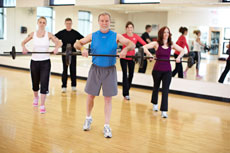 Shoot for strength training a few times a week with two strong options
YMCA membership includes access to free Group Exercise classes—including strength classes. Strength training can help you:
Improve strength and stamina
Shape and tone muscles
Improve athletic performance
Prevent injury
Improve body composition
Have better balance and overall movement
Increase metabolism
Cyndi Steinke, program manager for Group/Water Fitness at the Andover Y suggests that doing strength work two to three times a week is a good general guideline—with rest or cross-training days in between.
Here's an in-depth look at two strength-focused classes to try working into your exercise routine:
This straightforward class focuses more on front-to-back, traditional strength moves set to energetic music. With a predictable set of moves, your body can quickly learn to understand the movements and proper lifting techniques. Get a taste for this class in a short video.
This class combines traditional strength exercises with training moves that mimic the functional tasks we do in everyday life. Class focuses on high-rep training and athletic movements to get results—all set to motivating music. See this class in action.
Both classes
Cyndi says that both classes offer a good way to learn how to lift weights in a safe way, with a trained professional watching to offer you cues. In either class, you determine how hard you want to work by choosing the weights appropriate for your workout.
If you've tried one of these classes but are nervous to try the other, you'll notice some similarities. Cathy Quinlivan, director of Healthy Living at the St. Paul Midway Y says BodyPump and Strength Train Together work all major muscle groups, following the same order of focus areas, including:
Warming up
Leg work
Chest work
Back work
Arm work
Shoulder work
Core work
Stretching
Cathy says that it's great to try both classes to help create muscle confusion, "If you do the same weight and moves all the time, you're not engaging different muscle fibers. By changing up the weight, reps and moves, you can engage more muscle fibers and keep up with strength gain."
Find a class at your local Y to try something new!