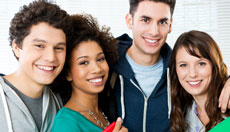 Programs at the Y make it a great place for young adults to hang out
For many teens, summer is the season of fun, sun and potential shenanigans. When school is out, kids have lots of time on their hands. How do they spend it?
According to the Pew Research Center, only 20% of today's 16 to 17 year olds hold a summer job, and the rate is even lower among teens of color.
In 2016, nearly 15,000 Twin Cities teens participated in programs at the YMCA.
Why the Y prioritizes the needs of teens
Becca Fink, senior program director for the Y's Teen Thrive program says, "There's not a lot for teens—especially those in middle school and early high school—to do in the summer. They are too old for child care, aren't old enough for part-time jobs and are seeking ways to get out of the house and do something important."
All kinds of summer fun for young people
To address the needs of teens, the Y offers a variety of summer programs—which are open to all and are easily accessible, with more than 80% of Twin Cities teens living within 15 minutes of a Y. 
At the Y, teens have a safe space to meet friends and try new things. Here are just some of the ways teens are enjoying the Y this summer:
Even when summer's over, there's lots to do
"We want teens to find a place they belong—where they can engage, build leadership skills, set goals for their future and have a voice," says Becca.
That's why when summer ends, there are still plenty of ways for teens to stay active with the Y and connect with caring, adult role models. Learn more about ongoing teen programs, like Teen Thrive, with programming starting in the fall.