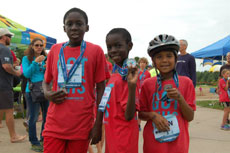 Kids ages 7-17 can swim, bike, run and more at this fun and active event
Come on out to Elm Creek Park Reserve in Maple Grove on Saturday, August 19 for the BreakAway Kids Tri by CycleHealth, now part of the YMCA. Check out racers Levi and Ethan's awesome video invitation.
Kids ages 7-17 can choose from two course options—both feature a no-fish / no-weeds swim pond, paved bike trails and adventurous obstacles. Register for the:
Super Sprint
This course is perfect for first-timers and includes:
100-yard swim 
4.5-mile bike ride
1-mile run
Mega Challenge
This course is great for kids who are ready for more and includes:
200-yard swim 
7.5-mile bike ride 
1-mile run
The BreakAway Kids Tri is for all kinds of kids
Kids who can swim, ride a bike without training wheels, and run are welcome—whether conditioned athletes or those new to exercise and sports. The race is designed to:
Be fun and generate lots of smiles
Jumpstart a lifelong love of exercise
Motivate kids to be active
Build confidence and endurance
Mark, dad of racer Owen says the Tri is, "Truly unbelievable! My son entered the race by himself, completed it by himself, and walked away prouder of himself than anything he's ever done." 
How kids can prepare
Co-founder of CycleHealth, Betsy Grams says, "Kids don't need to train hard for this event. If they want to do a bit of practice before the event—great. If they want to just show up on race day ready to have fun, that works too."
Kids get an interactive training challenge in their race packet. If they complete it and bring it to the race, they can get recognized. Additionally, racers are encouraged to come to a training night to practice race activities, get a bike check and ask questions.
What to expect on race day
The BreakAway Kids Tri is different from other triathlons—kids start two at a time for a less intimidating start, and ensure kids are spread out on the course, and the even isn't timed so kids can focus on have a blast instead of winning the race.
"CycleHealth makes sweating fun for kids. Once they get involved, they don't want to stop." says Dr. Tracy Hall at South Lake Pediatrics.
Parents aren't allowed on the course the day of the race, but are encouraged to cheer from the sidelines. The course is lined with safety experts and helpers, including certified life guards, swim instructors and more. If you're interested in helping keep kids safe on the course, register to volunteer.