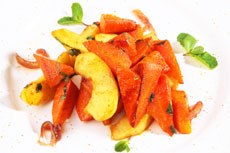 By the Chef Marshall O'Brien Group
Apples and carrots are a wonderful combo that is a welcome addition to a holiday buffet. Honey and cinnamon provide sweet and savory notes, without the overdose of added sugar so often found in the traditional sweet potato-brown sugar-marshmallow casserole.
Serves 4-6
Ingredients
2 cups Granny Smith apples (or other tart variety), peeled (optional), cored and chopped 
4 cups carrots, peeled and chopped
¼ teaspoon cinnamon
2 teaspoons tablespoons honey
2 tablespoons butter
½ cup pecans, toasted
Directions
Preheat oven to 350 degrees. Line a baking pan with foil or parchment paper.
Toss all ingredients together and place in a single layer in baking pan.
Roast 25-35 minutes, until lightly golden and tender, stirring occasionally.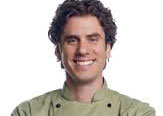 The Chef Marshall O'Brien Group is a dedicated assembly of professionals based in Minneapolis, Minnesota, committed to the goal of using nutrition to get kids and families to lead happier, healthier lives.