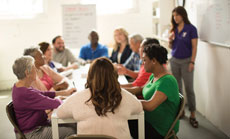 Eligible individuals can enjoy the Diabetes Prevention Program for free
Starting later this year, the Centers for Medicare and Medicaid will reimburse the YMCA for preventative services like the Diabetes Prevention Program.
The YMCA's Diabetes Prevention Program is specifically for people who have "pre-diabetes" or are at risk for Type 2 diabetes. Diabetes is a chronic disease that causes blood-sugar levels to rise higher than normal, and it affects more than 29 million people. More than 86 million American have pre-diabetes and are at risk of developing diabetes.
Najla Ibrahim, a Diabetes Prevention Program Specialist says, "A lot of people at risk for Diabetes might not know they are at risk—or might not know about the services available to them that can help."
The group-based program at the Y focuses on nutrition, physical activity and behavior modification, facilitated by trained lifestyle coaches. And it can really make a difference for members of our community.
David H. lost 12.4% of his body weight and went down two sizes following his participation in the Diabetes Prevention Program. He says, "I really liked how it all fit together: the way you eat, the physical activity, managing stress—it all matters."
For those eligible for Medicare or Medicaid, the program will be available for free—likely starting this spring. The program runs for a full year and typically costs $429. Even if you're not eligible for Medicare or Medicaid, you might qualify for a reduced fee, based on income requirements, or if you're over 65 years old.
If you're ready to start changing your life now, classes at 10 YMCA locations throughout the metro are beginning in January, including:
Email or call 612-230-3487 for more information about the program, and the upcoming Medicare/Medicaid coverage.