By the Chef Marshall O'Brien Group
This easy, tasty appetizer is a fun local twist on a perennial favorite and there's a simple onion dip to go with it. Of course, in the best Minnesota tradition, it's on a stick!
Serves 4
Ingredients
½ cup dry wild rice
1 pound ground turkey
1 large egg, slightly beaten
½ cup red onions, finely chopped
½ teaspoon ground turmeric
1 teaspoon ground paprika
1 teaspoon ground cumin
2 tablespoons minced garlic
2 tablespoons fresh lime juice
½ teaspoon salt
Directions:
Cook wild rice according to package directions. This can be done in advance. 
Preheat oven to 400 degrees. Line a baking sheet with foil or parchment paper.
Combine all ingredients and mix thoroughly.
Shape into 16 balls and place on baking sheet.
Bake until lightly browned and firm to the touch, about 15-20 minutes.
Insert party picks and serve on a platter with onion dip (below).
Note: For a festive touch, garnish the platter with frilly kale and cherry tomatoes, or get creative with veggies or fruits in your team's colors.
Easy Onion Dip
Makes 1½ cups
Ingredients
1 cup plain Greek or regular yogurt
1 cup shallots or yellow onion, finely diced
½ tablespoon white wine vinegar
¼ teaspoon kosher salt, or to taste
1/8 cup chives, chopped
Directions:
Combine all ingredients and mix thoroughly. 
Adjust seasoning to taste.
Mix in chopped chives and garnish top of dish immediately prior to serving.
Note: This is best when made at least 6 hours ahead of time so flavors can blend.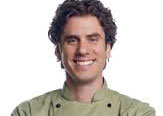 The Chef Marshall O'Brien Group is a dedicated assembly of professionals based in Minneapolis, Minnesota, committed to the goal of using nutrition to get kids and families to lead happier, healthier lives.