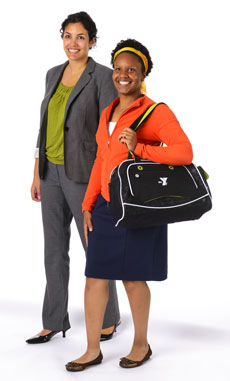 Your Y membership is valid at most YMCAs in the U.S.
Whether you're traveling for work or for pleasure, you don't have to give up wellness when you're away from home. YMCA memberships are valid at most YMCAs throughout the United States at no extra charge. 
Exercising when you travel can reduce the stress, help relieve jet lag, and give you more energy—so don't hesitate to visit the Y wherever you are. 
Who is eligible?
If you have a standard ("full facility") Y membership, you can visit YMCAs nationwide. 
Program-only participants (including SilverSneakers and Silver&Fit) and special memberships established for groups are not eligible for nationwide membership. 
How does it work?
Check out a list of participating YMCAs. 
At any Y you visit, you should have access to the services typically offered to regular members. You may want to contact the Y in advance to find out about schedules and services available. 
When you go to a YMCA while traveling, you will need to:
Show a valid YMCA membership card and photo ID
Provide basic membership data such as name or email address
Sign a universal liability waiver and privacy policy
You cannot use YMCAs away from home for more than 50% of the year. And, if you'll be visiting a Y for more than 28 days, you'll need to temporarily transfer your membership to that location.
Is this new?
There has always been reciprocity between YMCAs in different areas, but now there is a more streamlined, consistent program across the U.S. The YMCA offers this benefit as part of our mission to strengthen our communities and to help members—like you—reach health and wellness goals wherever you live, work or travel.