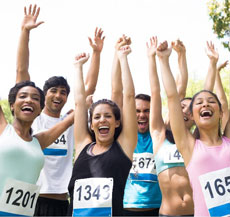 Get our head-to-toe tips on preparing for the Y Run.
Besides your physical training for the Y Run (or any other run you have coming up), make sure to also prepare your body, mind and gear before the race.
We talked to Jennifer Myers, director of Healthy Living at the Blaisdell Y, to find out the essential prep checklist for a running event.
What to wear
Dress in layers to avoid overheating. For example, wear a windbreaker and stocking cap to warm up, but remove them before the race. Moving your body will keep you warm throughout the run. 
Stick with tried and true options for your clothes that you know won't chafe, itch or restrict your motion. Save the new gear for training, when you can test it out.
Consider wearing a technical shirt for your base layer. Cotton will get wet and heavy, whereas technical tees are designed to wick moisture away. (Pssst … This year's Y Run shirt is a technical tee.)
Try making arm warmers by cutting out the toes of old tube socks. You can easily adjust them during the race and even toss them out at a water stop if you're done with them.
What to eat
Stick to whole foods that aren't processed or packaged as much as possible. Foods with added sugars or processed carbohydrates promote inflammation in your body and prolong post-run soreness, and nobody needs that.
Fuel your run by eating a pre-race meal rich in complex carbohydrates, which help you maintain energy throughout the run. This includes whole grains (rice, oats, quinoa), whole wheat pasta or bread, vegetables and whole fruits.
Include lean protein in your morning meal, such as eggs, nut butter, chicken, fish, Greek yogurt or cheese. Protein is essential for maintaining muscle mass and repairing muscles/tendons.  
Drink lots of water—before, during and after the race. Your water intake should start the day before the run, as it takes up to 24 hours to fully hydrate.
Learn more about smart nutrition for optimal training.
What to bring
Bring a bag with your warm-up and post-race gear. Store it at the bag drop, where a volunteer will keep an eye on your stuff during the race.
Speaking of warm-up and post-race gear, here are some items to consider:

An outer layer (windbreaker, sweatshirt) and stocking cap for warm-up
Dry clothes (socks and a shirt, at least) for post-race
What to think (mental prep)
Remember, you've been training for months. Even if you don't get a good night's rest the night before, you should trust that the work you've already put in will help you through the race.
Set two goals for yourself: a base goal and a stretch goal. Your base goal should be something you can feel good about accomplishing, even if things don't go exactly as planned. Examples:

Finish the race (period, or in a specific amount of time)
Hit a certain number of minutes to run vs. walk
Introduce yourself to two new people on race day
Set a focus for your mind during each mile of the race
What to do after the Y Run
You're invited to stay and enjoy these family-friendly activities after the race:
Watch kids do sports drills and an obstacle course
Snack on nutritious samples from food vendors
Take your photo with Sneakers (the Y mascot)
Play giant lawn games like Jenga and Connect Four
Try a Junior Oula class
Try on life jacket to determine the right size to use on the water this summer
Ready? Join us on Saturday, April 14, for the Y Run 5K, 10K & 1-mile run/walk at Bde Maka Ska. Runners and walkers of all ages and abilities will run or walk to the finish line, where they'll enjoy family-friendly activities and healthy snacks together.