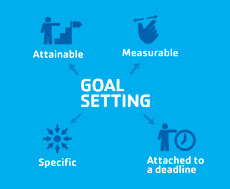 Resolve to work toward a better you with these easy tips
The start of the calendar year is often a popular time for people to make a resolution. Why wait when you can use the start of your year and make a birthday resolution? Or a Tuesday resolution? There's no need to wait for an event to make a change—you can get started now.
Starting small
You start small—it doesn't have to be a great-big change. In fact, tackling a small change can propel you to more easily working toward bigger goals.
For example:
You might want to drink more water, and less soda.
Once you have that down, you might feel better and be more motivated to take a quick bike ride
That could lead you to completing your first 5K run
Remember it's about balance
When thinking about what you'd like to change, it can be helpful to consider a mix of goals—some that will lead to quick wins, and some that will lead to long-term success. When you can see progress quickly, it's easier to stay motivated to keep working toward bigger resolutions to change.
It might be easier to work toward a change when you have a plan of things you hope to accomplish this month, this semester or this summer. Short- and long-term goals can help your plan come to life.
YMCA members can take advantage of a free Fitness Solution, where you can discuss fitness, nutrition and wellness goals with a Personal Trainer.
Set yourself up to celebrate successes
It's easy to track the progress you make toward your goals when they are:
Specific—know exactly what you want to change
Measurable—make it easy to answer whether you completed your goal
Attainable—set out with realistic intentions, plan to do something you can achieve
Attached to a deadline—set a date that you can work toward
And when you have a win, don't forget to celebrate your success—you've earned it!