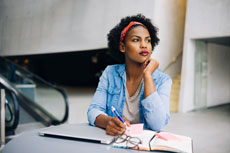 Self-reflection can help you to recognize the progress you make
Peter Drucker, a management consultant, teacher and author said, "Follow effective action with quiet reflection. From the quiet reflection will come even more effective action."
In addition to setting goals, it's important to take stock of how you're doing with a bit of self-reflection along the way in pursuing the things you want—at work, at home or at the gym.
You don't need loads of time—especially when you take time on a regular basis to consider questions like:
What am I most proud of?
What am I most grateful for?
Where do I place my attention?
What have I learned?
What are my goals? What's preventing me from reaching them?
Who can best support me as I work toward my goals?
Sometimes more concrete checkpoints can be helpful, too. Journey to Freedom small groups included scheduled discussion and reflection if you're interested in exploring changes in your life.
When you have a true sense of where you are and what's important to you, you're better prepared to:
Make decisions
Handle change
Motivate yourself to work toward where you hope to be
Celebrate the successes you have