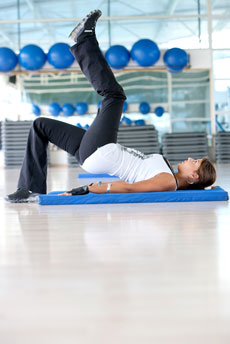 Strengthen your whole body with Core Conditioning Classes
Walk taller and feel stronger with Core Conditioning Classes. Ranging from 15 to 30 minutes per class, these sessions can easily fit into your daily workout routine between weights, cardio or other classes.
What to expect in Core Conditioning classes
As the name would suggest, Core Conditioning is a Group Exercise class designed to target your core muscle groups. "It works everything from your shoulders to your hips," promises instructor Muggs Prosser. 
During the class, instructors incorporate a variety of equipment and exercises to strengthen your abdomen and back muscles while increasing flexibility and improving your posture.
Why give Core Conditioning a try?
"Your core is the second most important thing to train after your heart," claims Muggs. Your body relies on your core muscles for several movements and activities. 
By working your core, you can expect to improve your:
Posture
Balance
Strength
Flexibility
Cardio endurance
"You can work your core every day if you want, because it's an endurance muscle," he said. "But definitely do it 3 to 4 times a week."
If you've never tried Core Conditioning before …
You may want to arrive a little early to get some pointers from the instructor, but don't worry about bringing any specialty equipment with you. The Y will provide all equipment needed for the class. You will want to bring your own water and a towel, because you'll work up a sweat.
Come to class dressed in:
Loose-fitting, functional clothing that breathes
Proper gym shoes that provide good stability
The class is open to all fitness levels. Kids ages 10-14 are welcome to attend with a parent or guardian and teens over 15 can attend on their own.
Core Conditioning is a Group Exercise class, which means it's free for Y members. Drop in to give it a try at any time—no registration required. Find a Core Conditioning class today.