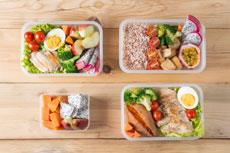 Tip: One-container meals are simple to make, quick to clean up, and keep you nourished and feeling your best when you are short on time. 
By the Chef Marshall O'Brien Group
Modern busy lifestyles leave little time for meal preparation, eating and clean-up – but resorting to fast food when time gets tight leaves you depleted and dragging when you need your energy most. One-container meals are perfect when you need to make something quick and eat on the go, but don't want the ill-effects of fast food. Chef Marshall offers his tips for creating scrumptious one-container meals that are easy to prepare, portable and a cinch to clean up.
Fool-Proof One-Container Meals
Salads, grain bowls, stews, stir-fries, even sheet-pan dinners make great one-container meals. Keep these tips in mind to create nourishing, delicious meals for eating on the go, easy clean-up or as a simple way to eat for one.
Balance Your Bowl – Make every meal balanced with this simple formula. Aim to fill your container:

Half full of veggies
One quarter protein
One quarter whole grain, legume or other complex (slow) carbohydrate

Think in Layers – Place wet ingredients on the bottom of your container and dry ingredients toward the top so things don't get soggy. When you are ready to eat, shake to evenly distribute sauces, dressings and toppings.
Keep Add-ons Handy – Stock up on items that add flavor and texture to your container meals, so you can easily ramp-up the flavor without added hassle.

Nuts and seeds –Packed with fiber, nutrients and healthy fats, nuts and seeds are a nourishing way to add crunch to your grain bowls, stir-fries and salads.
Savory sauces – Tamari, hot sauce and dressings add a lot of flavor to one-container meals. Remember to layer them on the bottom.
Fresh avocado –Add a dose of healthy fats to any meal. Toss avocado in lime juice, or cut up and add avocado right before you eat to prevent browning.
Dried chickpeas – These crunchy, nourishing morsels come in a variety of yummy flavors.

Get to Know Your Sheet Pan – Sheet pan suppers make clean-up a cinch – only one dirty pan! – and they provide perfect one-container leftover meals. Roast root veggies, your protein of choice and non-starchy vegetables like asparagus, broccoli, cauliflower, onions, peppers, even lemons, all together to allow flavors to meld. Line the pan with foil for easy clean-up.
One-Container Recipe Round-Up
Try one of Chef Marshall's favorite one-container recipes:
Overnight Berry Oatmeal – This fiber-loaded, high-protein breakfast couldn't be easier to prepare. Mix it up the night before, stir in berries in the morning and breakfast is served - or ready to take with you to the office!
Spinach-Pear Jar Salad – Jar salads are a versatile, convenient way to keep your salad crisp on the go. This one is crunchy, creamy, peppery and a touch sweet. 
Crunchy Quinoa Salad – This simple grain salad has everything you need for a well-balanced meal: complete protein from quinoa, fresh sugar snap peas, carrots and pumpkin or sunflower seeds for crunch. And if you have a meat-lover in your household, you can add some diced leftover chicken breast.
Streamline Eating with Easier Meals
When you are pressed for time, one-container meals are the fast-food-free way to streamline eating without cutting corners on nutrition. Nourish yourself with simple one-container meals that are easy to make, quick to clean up and keep you feeling energized and vibrant during busy, stressful times.
You will love the way you feel!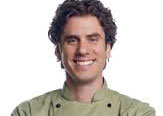 The Chef Marshall O'Brien Group is a dedicated assembly of professionals based in Minneapolis, Minnesota, committed to the goal of using nutrition to get kids and families to lead happier, healthier lives.