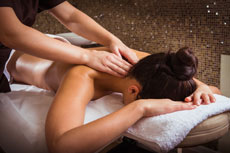 Learn about massage, acupuncture and other services at the new George Wellbeing Center
The George Wellbeing Center at the Dayton Y is a great place to enjoy wellness services, including massage and acupuncture.
If you're new to these therapies, you may have questions about how they work. Sally St. John, George Wellbeing Center managing director provides some good-to-know details on each service. 
What to expect at your first appointment
Whether you're coming in for massage or acupuncture, your first appointment at the Center will include a bit of intake. Expect it to go a little something like this:
First, you'll fill out some paperwork .
Then, you'll meet with your service provider for a face-to-face consultation. 
Finally, you'll get your massage or acupuncture service.
During the initial consultation (which will take place in a private room where you can keep your belongings), expect to talk about:
Areas of pain or ailments you want the therapist to work on
Your health history
The goals you want to achieve through therapy
Any questions you might have
What to expect from a massage at the Y
You can choose to get either a table or a chair massage at the George Wellbeing Center, with service times ranging from 30 to 60 minutes.
A typical table massage will go something like this:
Undress and get on the table: After the initial consultation, your therapist will leave the room so that you can undress. Wear as much or as little clothing as you want. Your therapist will work with you at your comfort level. Once undressed, get on the table, under the sheet. The table is heated and can be adjusted to your desired temp—just ask.
Receive a personalized massage: After knocking to make sure you're ready, your therapist will come back into the room. They will then provide a massage customized to your needs, working on the areas and addressing the goals discussed during your consultation. Therapists are trained in a variety of massage techniques to help you relax or restore.
Enjoy aromatherapy, if desired: During the massage, your therapist will use coconut oil on your body. You may choose to have an essential oil added to the coconut oil as aromatherapy. If you'd like additional aromatherapy, your therapist can also add essential oil to a diffuser in the room.
For a chair massage, you'll stay clothed and receive the massage through your clothing while seated on a special chair. 
The benefits of massage
Massage can help you:
Recover from a workout or feel like you've had a workout
Open detoxification pathways to help promote healing
Address conditions like insomnia, digestion, stress and overall health 
What is acupuncture, anyway?
Rooted in traditional Chinese medicine, acupuncture uses needles in pressure points to move energy through your body. The practitioners are highly educated and trained in understanding the body.
If having needles inserted into your body sounds a little weird or scary to you, here are some important things to know:
Acupuncture is a pain-free experience.
The needles are very thin and flexible.
Therapists use new needles for every person and every session.
Common needle placements include the head, hands and feet.
Typically, you don't need to be undressed for a session.
Done in a relaxing environment, acupuncture can feel like a restful nap or like floating on water.
What to expect from acupuncture at the Y
You can choose to get acupuncture alone or in a group setting at the George Wellbeing Center, with service times ranging from 30 to 60 minutes (90 minutes for your very first session). 
A typical individual acupuncture session will go something like this:
Discuss your therapy. After your initial consultation, your practitioner will talk to you about where they plan to place needles and why. Placement depends on what you're hoping to achieve through the session and what issues or ailments you want to work on.
Get on table for needle placement. Similar to a massage, you'll get on a heated table in a private room. After inserting the needles, your practitioner will leave the room to let you rest. Usually they will come back to check on you after a few minutes and adjust the needles, if needed.
Relax and let the needles work. During your session, you may use a blanket or pillow for your comfort. Feel free to request temperature adjustments to the heated table. The goal is to relax and rest.
Enjoy aromatherapy, if desired: If you'd like aromatherapy, your therapist can add essential oil to a diffuser in the room.
Remove the needles. When your session is over, your practitioner will remove all needles from your body.
Group acupuncture sessions are done in a small classroom with up to 6 people receiving therapy at a time. One provider will do a quick intake with each member of the group, then will go around and place needles on individuals. This cost-effective introduction to acupuncture can help people feel more grounded and connected to others.
Benefits of acupuncture
Acupuncture can help with:
Insomnia
Digestion
Menstrual cycles
Fertility
Migraines
Restore sore muscles 
Arthritis
Other services and things to know about the George Wellbeing Center
Aromatherapy: An optional add-on to any service, aromatherapy can help amplify a healing experience. Select from a wide variety of essential oils. Our therapists are educated on the benefits of each oil (e.g., lavender to help with stress, peppermint to help with digestion).
Additional services: Other services available at the Center include nutrition counseling, wellbeing classes, lifestyle coaching and light therapy.
Tipping: If you wish to tip your therapist, you may do so at reception when you check out.
Self-care store: Visit the center's retail area to explore products that promote self-care at home, such as essential oils, aroma diffusers, candles and flaxseed eye packs.
Come to the open house
You're invited to attend our open house on May 4 to see the George Wellbeing Center in person and find out more about these therapeutic services. The Center officially opens May 7.