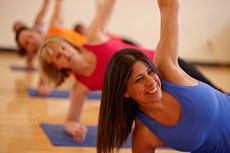 Build strength, gain flexibility and practice mindful breathing. 
Seek complete coordination of mind, body and spirit with Mat Pilates, a conditioning fitness class that focuses on total body alignment and intentional breathing. The exercises zero-in on core powerhouse muscles: abdominals, lower back, shoulders, thighs and glutes.
We talked to Teresa Hoppe, Group Fitness Instructor at Emma B. Howe in Coon Rapids, to learn more.
What is Pilates?
German-born Joseph Pilates developed a method he called "Contrology" in the early 20th century. He sought to develop the body uniformly, correct posture, improve physical vitality, stimulate the mind and lift the spirit. His unique exercises began a fitness movement that we now call the Pilates Method. 
"Joseph Pilates is known to have said: 'You will feel better in 10 sessions, look better in 20 sessions, and have a completely new body in 30 sessions.'" Teresa recalls. "Which is to say: with patience and persistence, change will take place."
What to expect in Mat Pilates classes
Mat Pilates is one of several ways in which Pilates can be practiced. Literally, on a mat. You can bring your own yoga mat or borrow one from the Y. Sometimes, instructors may bring additional tools like a Pilates circle, ball or band for the class. Mat Pilates Classes focus on the six primary principles of the classic Pilates method, which are:
Control
Center
Concentration
Precision
Breathing
Flow
Classes emphasize core strength and total body conditioning for balanced muscle development. You can expect three key phases in each Mat Pilates class at the Y:
Warm-up exercises
Movements while seated, standing or laying down
Relaxing, restorative movements
Why give Mat Pilates a try?
"The benefits of Mat Pilates are so many; it's a big package!" expressed Teresa. She cites some of the specific benefits as follows:
Improved posture and balance                                               
Increased lung capacity
Improved flexibility and leaner muscles                                                     
Improved bone density and joint health
Positive body awareness                                                      
Increased vitality and a sense of wellbeing
Better overall strength, endurance and coordination    
Enhanced sports performance and daily activities
Then there are the additional physical and psychological benefits that stem from Pilates' focus on breathing.
Who would like Mat Pilates classes?
"Mat Pilates is great for people who are looking for cross training options or who want to improve their balance and flexibility," she said. "People with back issues might find Mat Pilates beneficial, too."
Instructors can provide modifications to accommodate participants with special needs or health limitations, but you should work with your doctor to ensure a safe Mat Pilates practice.
"I frequently remind my class participants that each of us are at a different place with strength or flexibility," Teresa said. "As we practice together, we will look slightly different. That's ok! All participants are welcome whether they're an accomplished athlete or someone just returning to exercise."
If you've never tried Mat Pilates before …
For your first class, come a little early to talk to the instructor. They will help you get your equipment together and discuss any injuries or physical limitations you may have. 
What to bring and wear:
Your yoga mat. (If you forget or don't have one, you can check one out from Member Services or pick one up in the studio where class is scheduled.)
Fitted-yet-flexible exercise clothes made of breathable material.
A warmer layer for the relaxation portion, if desired.
A water bottle.
Come to class dressed and ready to move your body. Don't be afraid to ask questions. Take breaks as you need to.
You can do Mat Pilates every day. Teresa recommends at least a few times (2-3) per week. "Change happens with regular practice!" she says.
Take Mat Pilates at the Y
Classes are open to all fitness levels. Kids ages 10-14 are welcome to attend with a parent or guardian and teens over 15 can attend on their own.
Mat Pilates is a Group Exercise class, which means it's free for Y members. Drop in to give it a try at any time—no registration required. Check out a Mat Pilates class today.