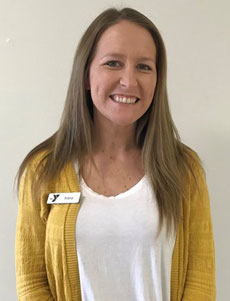 Getting to know Alana Kniefel
When the new Lakeville Early Childhood Learning Center (ECLC) opens later this month, Alana Kniefel will be ready to see all kinds of happy faces coming through the door each morning. As the Child Care director, Alana is responsible for welcoming new families, and she's excited to meet yours. Here's what you might want to know about her:
How do you pronounce your name?
uh-lay-nuh kuh-knee-full
What's your history with the YMCA?
I grew up coming to the Y!
When I was in elementary school, I attended School Age Care in Eagan. 
When I was a little older, I volunteered to help with Kids Stuff—where families can drop off kids while they work out at the Y.
I've worked with the Y as a professional since 2003. Roles I've had over the years have included:
Where did you go to school?
I am a graduate of Minnesota State University-Mankato in Elementary Education.
How do you spend your free time?
I live in Elko with my husband, Ryan, our son, Carson and our yellow lab, Max. We enjoy experiencing new restaurants, plus enjoying the trails and outdoor parks near our home—having all four seasons in Minnesota is the best!
What's the best way for families to connect with you?
If you're interested in having your child attend the Lakeville ECLC, call 651-728-5344 to schedule a visit. You can email me with questions at any time, too.