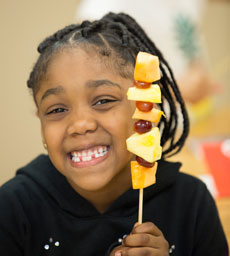 A multi-year gift will help children, families and seniors in our community.
Youth development, social responsibility and healthy living are the focus areas that guide the work of the YMCA. Many people already know about the Y's healthy living initiatives that include spaces to work, places to learn to swim and opportunities for kids to play sports.
A need for better nutrition
Eating well is equally important to healthy living. Yet, this can be challenging for many residents within low-income areas of Minneapolis—because they need to budget within a limited income, because there are plenty of low-cost food options that are low in nutritional value, or because it's hard to access affordable and healthy options.
Financial support that makes it possible
Addressing these needs has been a focus for the YMCA, with critical ongoing support from the Cargill Foundation—including a generous gift that spans the next three years.
"The Cargill Foundation has a rich history of partnering with the YMCA to improve access to nutritious food and increase healthy food consumption that will enable our students to learn and thrive," says Katie Clark Sieben, director of the Cargill Foundation. 
With funds from the Foundation, the Y plans to work for substantial change in North Minneapolis, connecting residents to nutrition education, cooking classes and access to food support. Katie says the Foundation, "Looks forward to sparking a love of growing and preparing nutritious meals with our North Minneapolis kids." 
Here's a look at what's in the works …
The Harold Mezile North Community YMCA Youth & Teen Enrichment Center is already home to a community-focused kitchen that offers cooking classes. Building on the success of this kitchen, the gift will fund:
New greenhouse
The roof of the North Community Y will be home to a greenhouse that allows kids, families and seniors to grow and cook fresh produce. 
With the new greenhouse, local kids will also have more opportunities to participate in hands-on learning. "The Cargill Greenhouse brings our efforts full circle—allowing children to learn STEM concepts through the growing process and how to prepare and eat nutritious food in the adjacent Cargill Teaching Kitchen," Katie notes.  
Expanded nutrition programming
Additional classes will be offered at the North Community Y that will be open to youth, families and older adults, including courses that tackle topics like:
How to cook affordable and healthy meals
Why it's important to eat foods rich in vitamins and minerals rather than food that's simply filling
The Cora McCorvey YMCA isn't far from the North Community Y and is focused on helping adults ages 40+ to live healthier and more active lives at an inexpensive cost. The Cargill Foundation gift will help bring older adults from the Cora McCorvey Y to the North Community kitchen and greenhouse for education on healthy and affordable meals for smaller families.