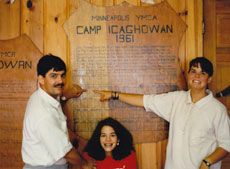 One family's remarkable ties to Camp Icaghowan.
Donors have different reasons for giving to the Y. Most have personal stories that speak to a special connection to a person, program or place. For the extended Dobbelmann family, they give to Camp Icaghowan for an almost magical reason that extends through three generations.
A daughter and an unknown father share a camp connection
When Laura Bestler arrived at Camp Icaghowan for the first time as a child, she felt an unexplained yet familiar connection. "It was as if the island whispered: 'Welcome home,'" Laura recalls. "It wouldn't be until years later that I would learn why—my biological family had roots here."   
Rewind to 1968, when Laura was born and adopted by Patty and Ray Bestler. Her parents were open about her adoption history and when Laura graduated high school, they gave her the gift of finding her biological parents. 
In her first year of college, Laura received a letter from her biological father, Mark Dobbelmann. In it, she learned that he and her mother Cathy had been high school sweethearts when they had her. They eventually married and had another child, her biological sister Jessica, who was four years younger than Laura.  
Shortly after receiving the letter, Laura's adoptive and biological families met for the first time and began a new chapter in their lives. As Laura shared stories about growing up, she and Mark learned they had something special in common—Camp Icaghowan. Mark had attended Camp Icaghowan in the early '60s as a youth, and it remains a special place for him away from home. 
"There it was," Laura remembers with warmth. "A connection between the place where I felt instantly at home and my birth family. It was as if Icaghowan told me so, many years ago."
The accidental family tradition becomes intentional
At this point in Laura's life, she'd been working at Icaghowan over the summer as a horse wrangler. In need of an assistant wrangler for the next season, it worked out perfectly for her biological sister Jessica to work alongside her that summer. Laura was thrilled that Jessica got to experience the camp that she and Mark loved.
"It was the best to spend dedicated time with my sister at the place I loved ... some of the best days as I recall," Laura said.
When Mark brought Jessica to Icaghowan, they found his name on the 1961 camp plaque. Laura was amazed to learn she'd passed her biological father's name on that plaque countless times all those years that she was a camper and on staff. 
In 2004, Jessica gave birth to her daughter Ruth. Laura enjoyed spending time with three generations of her biological family until, sadly, Jessica passed away in 2012. Ruth was eventually adopted by Mark and Cathy. Her grandparents/guardians made sure to connect Ruth to the family's special place the summer after Jessica passed. Ruth became the third generation of the family to experience the magic of Camp Icaghowan.
On the last day of camp during Ruth's second summer at Icaghowan, Mark and Laura road tripped to pick her up.  Ruth showed Jessica and Mark a new plaque with her name on it, gave them a tour of the grounds and sang camp songs for them.
"Ruth showed us her second Venture chip ... you could see the pride she took in earning it as the smile lingered on her face," Laura recalls. "It was like experiencing camp for the first time again through her eyes."
Continuing the legacy and memories
This coming summer, Ruth will be an Islander, dipping her paddle into Lake Superior. Mark has been working on an impressive Icaghowan archive for the 110th anniversary. Laura continues to connect and share memories with the Icaghowan "lifers" through their Facebook page. 
"This is what Icaghowan is ... a place where people find themselves and the connections we have with each other," Laura claims. "It's the love of a camp that whispered to me so many years ago."
With a special connection, it's easy to see why individuals and families choose to make charitable contributions to the Y designated to the camp of their choice. If you share a strong connection to a camp or branch location, you can designate a donation to it anytime or on a yearly basis. Just visit our online giving page to get started.