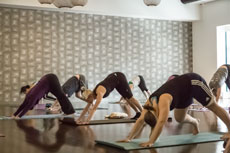 Embrace your power and lift your mood with this dynamic yoga class.
If you're new to yoga, you might wonder what a "flow" class involves. At the Y, Yoga Flow uses a sequence of movements in a continuous flow. This style of yoga is also known as Vinyasa yoga.
Yoga Flow classes are a great way to:
Build strength
Improve balance
Increase flexibility
Contribute to heart health
Alleviate stress and anxiety
What to expect
Minda Orina is a Group Exercise Instructor with the Y and teaches Yoga Flow classes at the Dayton, Eagan, Ridgedale and West St. Paul locations. Minda notes that each class instructor will have a difference pace and style to their Yoga Flow class.
For example, she strives for her classes to be fun and joyous, with music playing an important role. "I love teaching this class because it offers an opportunity to spend time in our bodies and move to music with a group of others. It's a real mood lift!"
During Yoga Flow class:
You will get a workout that builds strength
Your instructor will provide cues to help you get into each pose
Your instructor will offer options for various poses that accommodate all types of abilities
There might be a brief time for meditation at the end of class
Your first class
There really isn't any prep work you need to do prior to trying your first Yoga Flow class at the Y. If you have a yoga mat, you can bring it to class, or use a mat provided by the Y.
Minda suggests that you come a little early to class and let your instructor know that you're new. She also encourages you to choose a spot near the center of the room, where it's easy to see the instructor. Although this might feel intimidating, Minda encourages you to remember that during class everyone is engaged in their own practice—and not looking at you.
Starting your yoga practice
Regardless of your body shape, age, or past yoga experience, Yoga Flow classes are waiting for you to try them at the Y—check the schedule. In addition to Yoga Flow, there are many other styles of yoga. It's worth trying a few to see what you like. For example, Gentle Yoga or Balance and Flex Together.
Minda says that some people might think everyone who takes yoga classes already know all the moves or look a certain way, but she stresses, "It's for EVERY body!" And it might feel overwhelming the first few times you go—so be sure to give yoga classes a few chances before you call it quits.
She recommends incorporating flexibility training into your fitness program at least once a week—and Yoga Flow is a great way to do it.