Capital Campaign Update – Staff Lodge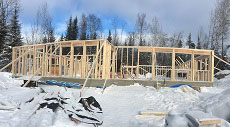 As you may have seen in our last newsletter, the Revitalizing and Renewing Capital Campaign for Camp du Nord officially kicked off in February of 2017 with an ambitious goal of raising $4.25 million. The Campaign Steering Committee is pleased to report that we have raised $3.1 million to date! As a result of the strong commitment of our community, camp has continued to move forward with the project list. The new staff lodge, located in Pine Pointe, is currently under construction and will be move-in ready for a number of our fantastic 2018 summer staff. Also under construction is a remodel of Kawnipi cabin in Northland Village. This remodel will maintain the original log structure, while bringing many needed updates. Also on the near horizon is the project to control erosion at Northland, the natural playscape near the dining hall, the addition to the dining hall, the purchase of property across the lake for preservation and rustic campsites, and a number of other updates/improvements. We are very proud of the progress and look forward to engaging more families in the campaign efforts as we work to raise the $1.1 million to reach our goal, and maybe even exceed it! Our generous supporters are making it possible for camp to continue to serve families for decades to come. All of us on the Steering Committee send our gratitude to all who have so kindly supported this campaign so far! We will continue to share updates as we transition from the campaign's quiet phase to the community phase in 2018.
With gratitude,
Kimberly Scott and Skip Wilke, Campaign Co-Chairs
On December 31st, Skip passed away after a multi-year battle with cancer. He will be dearly missed.