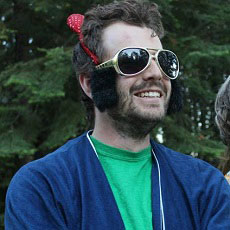 I will give you three clues and three clues only. 1. YMCA  2. Camp  3. Ihduhapi!  You got it- YMCA Camp Ihduhapi!
Our wonderful Program Director, Andy Sinykin, has been given an amazing opportunity to join the Y team in Loretto, MN and lead their growing Outdoor Learning Program. Andy has spent 13 summers as a staff member at du Nord, and the last 5 years in a full-time role as our Summer Program Director. Andy's influence is widespread, as he committed himself fully to moving the mission of Camp du Nord forward. His du Nord success list includes developing stronger and more impactful teen programs, advancing our outreach and inclusion work, inspiring and instilling confidence in hundreds of staff members, and of course his amazing stage presence. 
There is no doubt that we will miss this charismatic, compassionate, and hilarious leader and teacher, but he has assured us that he will stay close to the du Nord community. He is an important part of our family and we are so grateful for his dedication. Please join us in congratulating and thanking Andy for his incredible service to du Nord!