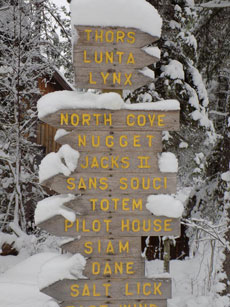 The snow is accumulating, the water on the lake is solid ice, and the staff up at camp are ready for a busy winter season!
Thanks to all of the generous people who donated to Esprit du Nord last spring. With the funds raised, we have been able to purchase 18 new pairs of snowshoes, 20 pairs of new ski boots, and 20 new sets of ski poles! We are confident that all the winter campers will put all the new equipment to good use, so thank you for your support of winter programming.
Great news! It's about to get easier to come to du Nord this winter! We will be rolling out an online registration system for fall winter spring cabins and programs starting in February. Stay tuned to our website and Facebook page for more info.
Are you thinking of escaping the crowds that will descend upon the Twin Cities for the Super Bowl? Cabins are available to rent with your family or group of friends for a relaxing, cozy, quiet north woods retreat the first weekend in February. You can cross country ski or snowshoe out on the North Arm Trails, take a hot sauna, or relax with a book by the fire. That weekend is also the beginning of the Ely Winter Festival where you can see snow sculptors make amazing creations in the park. It is the perfect getaway!
We also still have a few openings in the Couple's Getaway weekend, March 8-11. $550 per couple for a private cabin, or $450 per couple to share a cabin with friends. The weekend includes ski and snowshoe outings, meals, saunas, a candlelight dinner, and a concert by Quillan and Kim Roe of the Roe Family Singers!
We hope to see you at Camp du Nord this winter!