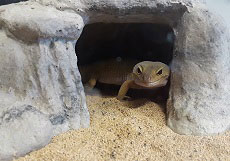 Day Camp Ihduhapi has a new friend that will be joining us at camp this summer.
Speedy is an African Fat Tailed Gecko, he was donated to camp by a generous family and we are looking forward to having him teach campers about geckos and other reptiles this summer.
Groups will be able to spend time with Speedy during their week and occasionally watch him eat delicious crickets.