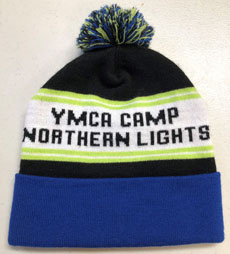 Be among of the first to own one these Camp Northern Lights winter hats, commemorating our inaugural year as a YMCA Family Camp!
There are only 50 of these hats, so you'll want to snatch one up right away. Not only will you be one of the few to sport these limited edition hats, you will also be supporting our first ever Annual Fund, to raise money for scholarships in 2019. Many families coming to camp this summer are in need of financial support, and your purchase of this hat will directly support these families!
Each hat is $40 - $20 for the hat and shipping + $20 donation for Northern Lights scholarships = A WIN FOR YOU!
Purchase your hat now and we will send your hat right away. Remember, there are only 50 of these. When they are gone, they are gone! Get yours now!