Meet Mackenzie Erpenbach
Camp Director, Day Camp Heritage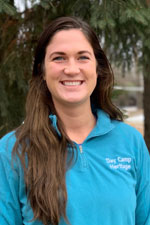 Camp has been a part of my life since I was a child. I had the opportunity to attend a variety of different Y programs as well as be a part of the Camp Heritage staff since 2012. The YMCA has had a tremendous impact on my life and it was a large part of my decision to attend the University of Wisconsin, Eau Claire and major in Social Work. The knowledge I have gained through a variety of settings and programs, most notably, working in a Child and Youth Care Center in Cape Town, South Africa, has helped me gather the tools to continue fostering a safe, happy, and healthy environment at Camp Heritage.
I love that Camp Heritage is filled with people from all walks of life who come together to create an amazing community. I enjoy the community that is fostered at Heritage which gives campers a unique opportunity to immerse themselves in nature while creating a culture for personal growth and healthy relationship building. I feel lucky to have been a part of the growing community of amazing staff, children, and families. I thrilled to have the opportunity to begin this new journey as Program Director and continue to build and grow the Camp Heritage community.
About Day Camp Heritage
Every child will benefit from this connection with nature. YMCA Day Camp Heritage is a wonderful place for your child to experience fun, outdoor adventures this summer! New and returning campers thrive during a week packed full of exciting, structured activities. Campers participate in small, age appropriate groups where they build self-esteem and learn new skills. Our experiences are built on the Y's core values of caring, honesty, respect and responsibility.
Traditional camp activities include swimming, canoeing, archery, environmental education, cookouts, arts and crafts and more.
Specialty camps provide two hours of focus on a favorite activity. Accomplishments are marked with special beads for every camper to collect. We hope to see your child at Day Camp Heritage this summer!
Teen Camps Develop leadership qualities and abilities that are important life-long ingredients. Our leadership camps develop the whole person — spirit, mind, and body — through a variety of service projects, hands-on activities and team building exercises. Our leaders of tomorrow begin with our youth of today!
Camp Hours
9 a.m. – 4 p.m.
Scholarships
We provide needs-based scholarships called Personal Pricing Plans to make camp more affordable. We take several factors - annual income, the number of adults in your home, and the number of dependents - and use them to determine your fee. Learn more about scholarships
Contact Us
YMCA Day Camp Heritage
7732 Main Street
Lino Lakes, MN 55014
Get Directions
612-806-4309
campheritage@ymcamn.org