Meet Dan OBrien
Camp Director, Day Camp Heritage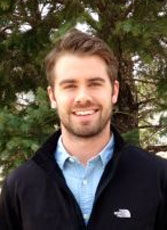 Camp has been and always will be a part of my life. As a kid, I spent my summers at camp, loving every day. I was a counselor at Camp St. Croix for many years and grew into other roles as well. To be a part of the Camp Heritage team is beyond thrilling for me! I look forward to giving campers fun and unique opportunities for growth in a nature-inspired setting. Whether you are a parent or camper, a Camp Heritage experience is sure to put a smile on your face. 
Camp Heritage is a community, meant to be shared by all ages of people from different walks of life. Creating a culture that fosters healthy relationships through peer mentoring and teaching is what we aim for. Camp Heritage lets children grow independently while being surrounded by supportive friends and counselors. Empowering campers to make their own choices and allowing them to fail in a safe environment makes the camp experience unique.
About Day Camp Heritage
Every child will benefit from this connection with nature. YMCA Day Camp Heritage is a wonderful place for your child to experience fun, outdoor adventures this summer! New and returning campers thrive during a week packed full of exciting, structured activities. Campers participate in small, age appropriate groups where they build self-esteem and learn new skills. Our experiences are built on the Y's core values of caring, honesty, respect and responsibility.
Traditional camp activities include swimming, canoeing, archery, environmental education, cookouts, arts and crafts and more.
Specialty camps provide two hours of focus on a favorite activity. Accomplishments are marked with special beads for every camper to collect. We hope to see your child at Day Camp Heritage this summer!
Teen Camps Develop leadership qualities and abilities that are important life-long ingredients. Our leadership camps develop the whole person — spirit, mind, and body — through a variety of service projects, hands-on activities and team building exercises. Our leaders of tomorrow begin with our youth of today!
Camp Hours
9 a.m. – 4 p.m.
Scholarships
We provide needs-based scholarships called Personal Pricing Plans to make camp more affordable. We take several factors - annual income, the number of adults in your home, and the number of dependents - and use them to determine your fee. Learn more about scholarships
Contact Us
YMCA Day Camp Heritage
7732 Main Street
Lino Lakes, MN 55014
Get Directions
612-806-4309
campheritage@ymcamn.org